Anita Sadaty, M.D. Biography
Dr. Anita Sadaty is a full-time, Board Certified, attending physician practicing Obstetrics and Gynecology at North Shore University Hospital in Manhasset, New York. She attended medical school at Cornell University graduating with honors as a member of Alpha Omega Alpha in l994 and completed her residency in Obstetrics and Gynecology, as well as chief resident year at North Shore University Hospital in 1998.
Prior to completing residency, Dr. Sadaty spent two years in research at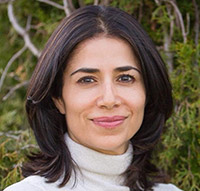 the Rockefeller University Department of Biochemistry and at Cornell University Medical College Department of Surgical Research. She is co-author on a research publication on diabetic wound healing published in the Journal of Surgical Research, 1991. In 1998, she presented a clinical research study completed during her residency training at the American College of Obstetrics and Gynecology annual conference regarding the relative effectiveness of various labor induction agents.
She joined Great Neck Obstetrics and Gynecology in l998, a group specializing in all aspects of women's health care, offering a comprehensive range of gynecologic, obstetrical, radiologic and aesthetic services to suit women's growing health care needs. Although the practice provides a wide array of traditional medical services, Dr. Sadaty has developed an interest in alternative medical practices to address the needs of an emerging patient population that prefers a more integrated approach to medical care. This advance has allowed Sadaty to provide hormone therapy through integrative medicine for women who have not had success via traditional methodologies.
In addition to maintaining a full time private practice, Dr. Sadaty is also involved in the residency training program at North Shore University Hospital. She serves as a member of the resident-attending mentoring program and is a member of the Department of Obstetrics and Gynecology selection committee to select prospective candidates to the hospital's residency training program.
Professional Memberships
Society of Laparoscopic-Endoscopic Surgeons
Member, American College of Obstetrics and Gynecology
Member, Nassau County Obstrical Society
Former Chapter President, American Medical Women's Association
Alpha Omega Alpha Medical Honor Society